Excess skin and fat can develop as a natural part of ageing, following pregnancy, or, most commonly, as the result of excessive weight loss.
What is a body lift?
A body lift is a procedure undertaken to address loose or sagging skin. Stubborn fat deposits can also be addressed at the same time. It is commonly indicated and the procedure of choice in patients who have a lot of skin sag after significant weight loss. Body lift surgery essentially equates to skin removal surgery, but planned in a way to slim, contour, and tone the body shape. This combination will vary from case to case depending on the patient's desired results. An upper body lift can help to address back rolls and sagging underarms, whilst a lower body lift will help to recover the contour of your waistline, hips, and buttocks.
A body lift may include a combination of the following procedures:
Lower body and buttock lift
Upper body and back lift
Abdominoplasty (Tummy Tuck)
Liposuction
Thigh Lift
Arm lift
For further information on this procedure and to find out which combination treatment is right for you, download our comprehensive body contouring guide.
Who can get a body lift?
The ideal candidate for a body lift treatment plan, is someone who has a good level of health and suffers from loose, excess fat and skin. Consultation with Dr Reddy can be undertaken at any one of our North Shore, Westmead, Norwest and Central Coast Plastic Surgery clinics.
Expert Advice
Personal Approach
Highly Respected
SYDNEY & CENTRAL COAST PLASTIC SURGEON
Body contouring results
Bodylift surgery when undertaken for the right reasons, can have a very positive impact on an individual and produce a very profound change in body shape. The surgery very effectively corrects excess and skin sag after pregnancy and weight loss, resulting in improved contour in the areas being addressed.
Dr Reddy always recommends having an optimal Body Mass Index (BMI) prior to surgery. BMI is a ratio of weight to height and serves as a useful indicator for when surgery may be best indicated. Whilst improved contour is typically seen in all patients undergoing body lift surgery, a more favourable starting BMI typically yields a more favourable visible result. A higher BMI may also correlate with larger amounts of visceral fat, which in turn can limit the degree of abdominal muscle tightening that can be undertaken as part of the lower body lift procedure. A more favourable BMI, along with complete abstinence from all Nicotine products will also help to reduce post-operative healing issues.  It is also important to ensure that your weight has been stable prior to surgery. This ensures that the results of your surgery are best maintained.
Benefits of cosmetic surgery
In addition to the desired aesthetic outcomes, there are several compelling medical reasons that one might choose to undergo a body lift.
By helping to eliminate, unwanted skin folds, skin fold-related symptoms such as sweat rash, intertrigo, and associated discomfort, commonly resolve after surgery. The surgery can Make it much easier to maintain personal hygiene due to the elimination of skin folds that are difficult to clean and prone to harbouring bacteria.
We have seen in past patients that by eliminating excess skin folds and fat, particularly in the upper arm and outer thigh region, clothing difficulties previously encountered, are often also resolved. Due to AHPRA guidelines, we are not able to say that such procedures will have a positive effect on your psychological state of being, but past patients have reported increased psychological well-being in conjunction with enjoying the results of treatment.
Patients commonly advise us that the excess that they carry affects their ability to exercise. By eliminating redundant and sometimes very heavy skin folds (and 'abdominal aprons'), the surgery can assist in commitment to an exercise regime, by making physical activity much more comfortable without excess weight and folds of skin.
Body Lift Procedure
WARNING VIEWER DISCRETION IS ADVISED
Body Lift FAQs
WHAT'S INVOLVED IN A BODY LIFT PROCEDURE?
WHAT IS THE HOSPITAL LENGTH OF STAY?
WHAT IS INVOLVED IN BODY LIFT SURGERY RECOVERY?
HOW MUCH DOWNTIME IS EXPECTED?
HOW MUCH DISCOMFORT IS EXPECTED DURING RECOVERY?
WHEN WILL I SEE RESULTS FROM BODY CONTOURING?
IS A BODY LIFT A HIGH-RISK PROCEDURE?
WILL INCISIONS BE VISIBLE?
HOW LONG WILL MY RESULTS LAST?
Body Lift Before & After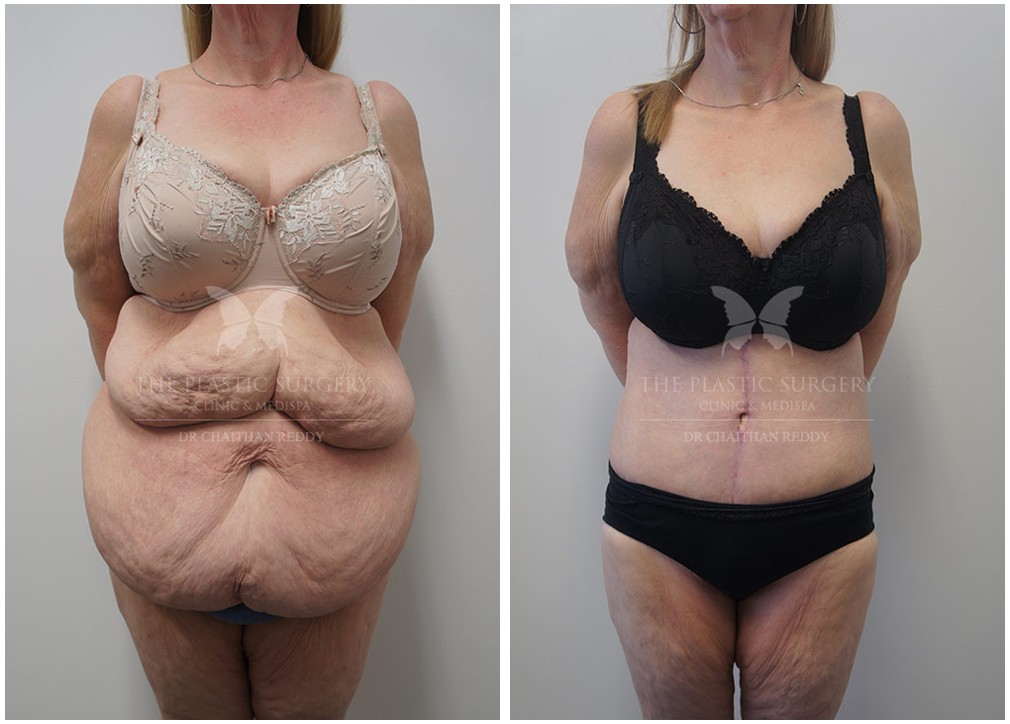 Body Contouring Surgery Sydney
Every patient is unique and results may vary. Surgery and all health regulated services carry risks which need to be discussed with your doctor to ensure you are fully informed and realistic outcomes have been explained.