Excess fat and skin can develop as a natural part of ageing, following pregnancy, or, most commonly, as the result of excessive weight loss.
What is a body lift?
A body lift doesn't refer to a single procedure, but instead a combination of procedures, which work to slim, contour and tone the body shape. This combination will vary from case-to-case depending on the patient's and desired results. An upper body lift can help to address back rolls and sagging underarms, where a lower body lift will help to recover the contour of your waistline, hips and buttocks.
A body lift may include the following procedures:
Liposuction
Abdominoplasty (Tummy Tuck)
Thigh lift
Arm lift
Lower body and buttock lift
Upper body and back lift
For further information on this procedure and to find out which combination treatment is right for you, download our comprehensive body contouring guide.
Who can get a body lift?
The ideal candidate for a body lift treatment plan, offered at our North Shore, Norwest, Westmead and Central Coast clinic locations, is someone who has a good level of health and suffers from loose, excess fat and skin.
For suitable patients, undergoing a body lift can help restore a more appealing body contour and promote better health.
Expert Advice
Personal Approach
Highly Respected
SYDNEY & CENTRAL COAST PLASTIC SURGEON
Our Surgery
Information Booklet
Fill out the form below to receive your copy of our surgery information booklet

VIEW YOUR POTENTIAL RESULTS
To give you a better idea of what you will look like after a body lift, Dr Reddy uses the VECTRA 3D imaging system. During your consultation, several photographs will be captured and processed using Sculptor software. This will allow you to view your potential results from several different angles, ensuring you have realistic expectations about what can be achieved following surgery.
Body contouring results
As a result of reclaiming a more sleek body contour, patients have been known to find that they are more comfortable and pleased with their appearance in clothing, and notice positive repercussions throughout their lives. Due to AHPRA guidelines, we aren't able to say that such procedures will have a positive effect on your psychological state of being, but it's worth noting that past patients have reported increased psychological well-being in conjunction with enjoying the results of treatment.
Benefits of cosmetic surgery
In addition to the desired aesthetic transformation, there are several compelling medical reasons that one might choose to undergo a body lift. A body lift can help to:
Minimise the occurrence of rashes and infections that can develop between folds of skin
Make it much easier to maintain personal hygiene due to the elimination of skin folds that are difficult to clean and prone to harbouring bacteria.
Assist in commitment to an exercise regime, by making physical activity much more comfortable without excess weight and folds of skin.
Body Lift Procedure
WARNING VIEWER DISCRETION IS ADVISED
Body Lift FAQs
WHAT'S INVOLVED IN A BODY LIFT PROCEDURE?
WHAT IS THE HOSPITAL LENGTH OF STAY?
WHAT IS INVOLVED IN BODY LIFT SURGERY RECOVERY?
HOW MUCH DOWNTIME IS EXPECTED?
HOW MUCH DISCOMFORT IS EXPECTED DURING RECOVERY?
WHEN WILL I SEE RESULTS FROM BODY CONTOURING?
IS A BODY LIFT A HIGH-RISK PROCEDURE?
WILL INCISIONS BE VISIBLE?
HOW LONG WILL MY RESULTS LAST?
Body Lift Before & After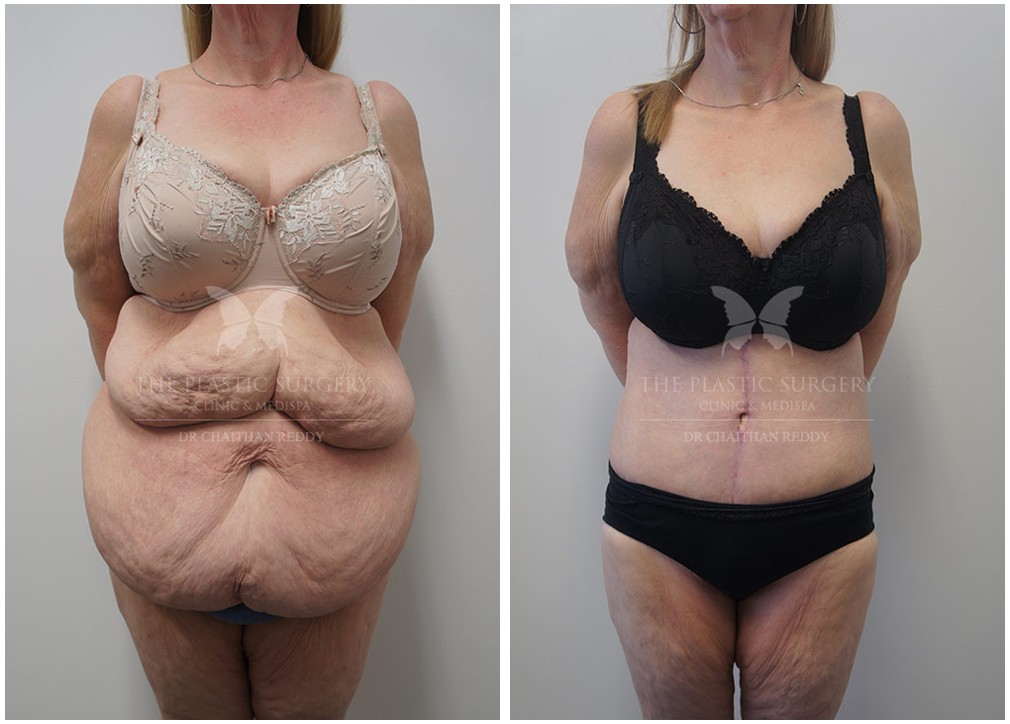 Body Contouring Surgery Sydney
Every patient is unique and results may vary. Surgery and all health regulated services carry risks which need to be discussed with your doctor to ensure you are fully informed and realistic outcomes have been explained.