It is an emotional journey and can be an exercise in perseverance, especially for individuals who plan to lose over 20kg or more. There are many ways to change your life from living with major weight issues to living a more fit and healthy lifestyle. But getting your physique to where you want it to be – including your skin and overall body shape – can be a more complex challenge for people who have lived with major weight problems. Losing weight through healthy eating habits, exercise, and or surgery to achieve a favorable Body Mass Index (BMI) has many health benefits. A sequala of significant weigh loss however, is that it can lead to significant skin redundancy and skin excess. Due to the poor skin tone that often results through the weight loss process, skin tightening and retraction is typically very limited, typically resulting in skin sag and excess skin folds.
If you are struggling with excess or saggy skin, body contouring may be able to help you eliminate the skin excess, tighten and reshape the affected body regions.
Skin Removal After Weight Loss through body contouring procedures
Body contouring is a combination or series of surgeries to remove excess folds of skin. Surgeries usually associated with a body contouring procedures include tummy tuck (abdominoplasty), breast lifts with implants (augmentation mastopexy) and when the two are combined it if often referred to as a 'mummy makeover'. Other body contouring procedures and procedures entailing skin removal surgery after weight loss include bodylift surgery, thigh lift, and arm lift surgery. Lower body lifts are sometimes known as a "360", "circumferential" or "belt lipectomy". A range of operations may be required to address all of your body contour concerns. Some of these may be able to be combined in a single operation to address more than one body area. The planning for this, and decisions about staging and timing will be discussed in your initial consultations with Dr Reddy at The Plastic Surgery Clinic in Sydney.
Any surgical or invasive procedure carries risks. Before proceeding, you should ensure that you have a good understanding of the information discussed at the consultation. You should also review the information provided to you following your body contouring & skin removal surgery consultation. We encourage you to discuss all queries that you have well prior to surgery.
Will I need surgery after weight loss?
There may come a time after dramatic weight loss when your weight is stable, but you are symptomatic and troubled by sagging and excess overhanging skin. If you are considering plastic surgery to improve your body contour, the following factors will better prepare you for surgery:
Your weight has been stable for at least three months with no further significant weight loss expected.
You are in good overall health without chronic medical conditions, such as diabetes or heart disease.
You have a GP referral from your primary care physician or doctors treating you for medical conditions.
You have mental stamina; surgical contouring procedures require patience and endurance.
You have realistic expectations; surgery can lead to marked improvements in your shape, but it is impossible to restore the skin or body to what it would have been without the weight gain or to what it was in your teens or twenties. Even after body contouring surgery, your skin will continue to sag to some degree over time as part of normal ageing.
You have a healthy diet; problems such as protein deficiencies can interfere with healing.
You do not smoke; smoking slows down the healing process and increases the risk of serious complications.
Expert Advice
Personal Approach
Highly Respected
SYDNEY & CENTRAL COAST PLASTIC SURGEON
Plastic Surgery Procedures
Tummy Tuck (Abdominoplasty)
There are few surgical procedures as transformative as the tummy tuck
A tummy tuck (or abdominoplasty) provides opportunity to eliminate unwanted excess skin and fat from the abdominal region. This procedure is often undertaken to address the changes that result after pregnancy or after significant weight loss to address excess loose skin. The procedure typically also addresses the muscle seperation that can result from pregnancy or weight related changes. Correction of the muscle wall seperation can not only improve adbominal contour but can address symtpoms related to poor core strength, including bladder control and back pain.
To find out more information regarding the tummy tuck procedure with Dr Reddy at The Plastic Surgery Clinic in Sydney, please click here.
Abdominoplasty and Breast Surgery
This is a combination of tummy tuck (abdominoplasty) and breast surgery procedures designed to address the truncal changes that can develop after pregnancy, major weight loss, or breast feeding. A woman's body changes shape many times during pregnancy and childbirth. While emotionally it can be a wonderful experience, the physical changes that occur can often be irreversible. The two common changes which occur following breast feeding and childbirth relate to both breast shape and abdominal contour. For women who wish to address these changes, Dr Chaithan Reddy offers specific mummy makeover (abdominoplasty and corrective breast surgery) treatment plans. A dramatic change in in overall body shape can be achieved when both a correction in breast shape and abdominal contour is undertaken simultaneously, hence the term "mummy makeover".
To find out more information regarding a mummy makeover (Abdominoplasty and Breast Surgery) at The Plastic Surgery Clinic in Sydney, please click here.
Liposuction
Liposuction is a surgical procedure which assists in the removal of localised deposits of fat from problem areas in the body. Liposuction can therefore effectively reshape targeted areas of the body. The body regions that can be treated effectively include the chest, back, abdomen and hips, thighs, upper arms and neck. This procedure consists of making small incisions to the selected regions of the body before a high-powered vacuum is used to remove fat cells and thus assist in improving body contour in problem areas.
To find out more information regarding the liposuction procedure at The Plastic Surgery Clinic, please click here.
How to tighten skin after weight loss without surgery?
Despite maintaining a healthy diet and a regular exercise regime, excess sagging or loose skin surrounding the problem areas of your body can persist. For some people, it doesn't matter how many crunches or weight sessions they do, the excess skin just doesn't have the elasticity to bounce back to its original form before the weight was gained. Skin removal surgery after weight loss can address these changes.
The surgical options for loose, excess skin after weight loss are:
FAQ
WHAT DOES BODY CONTOURING MEAN?
DOES BODY CONTOURING WORK?
IS BODY CONTOURING SAFE?
HOW MUCH DOES BODY CONTOURING AFTER WEIGHT LOSS COST?
Post weight loss & Bodylift Surgery Before & After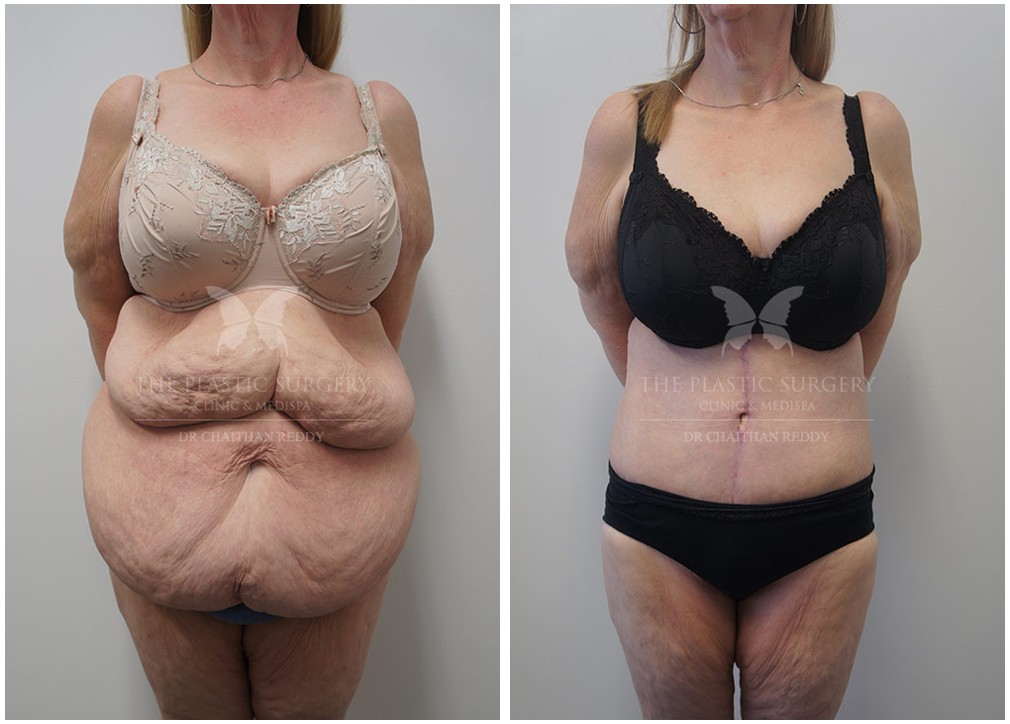 Body Contouring Surgery Sydney
Every patient is unique and results may vary. Surgery and all health regulated services carry risks which need to be discussed with your doctor to ensure you are fully informed and realistic outcomes have been explained.